From stressed, overwhelmed and stuck to
Navigating BIG Changes with Ease.
It's time to love your life. ALL of it!
It never feels like ENOUGH.
And you're done. You can't do this anymore – something has to change.
As a successful woman, you absolutely love the impact you have on the world. But you're so busy that you don't have the time and energy to deal with your problems – except that they aren't going away – they keep getting worse.
You're literally struggling to get through each day, not thriving. Your old fears, family patterns, beliefs, energies and other life experiences have kept you stuck on this path.
Whatever you do – it's not enough. The problem is this isn't working for you anymore. You're ready to be happy and feel fulfilled in your relationship with yourself and others. You're ready to feel free and abundant.
You're at your breaking point and ready to make a change. You just don't know how to begin.

What if I could help you make these changes and it wouldn't feel so hard?
The key to success is knowing when to hire help. Are you ready to ditch the overwhelm and exhaustion, step into more energy, joy and freedom, and love your life? You can go from struggling to get through each day to thriving in ALL areas of your life.
If this is your priority, apply here, let's talk!
---
My clients start working with me when they are:
– Overwhelmed
– Exhausted
– Burned out
– At a breaking point
– Going through a big change
– Seeking clarity
– Struggling in relationships
– Ready to revamp their mindset and energy
– Unfulfilled and want to find happiness and joy again in their life
My specialty is intuitively guiding successful yet exhausted  and driven women to bust through the beliefs, fears, patterns and energies that are derailing you so you can get back on track. I help you make the change(s) that it's time to make so you can actually love this amazing life you have created for yourself.
See how I helped these clients change their LIVES for the BETTER!
---
I Can Have it ALL
Successful women don't feel like they have it all. You feel like you have to DO it all – and NOT for you. It's time to really change this!
You know it's time to do the inner work and you've tried to do it.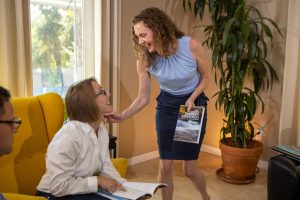 You may even think you've done enough of it. 
But if any of this resonates with you, there is more to do. This is the key that will move you forward.
The difference in working with me is that I use all of my intuitive abilities as a Spiritual Medium to help you navigate this change with more ease. In the process, I can help you permanently shift and release the patterns, fears and energetic blocks that are not allowing you to be happy and enjoy your amazing life.
I have been helping people through change my whole life. I offer speaking, mindset & energy event and coaching support, a semi-private year long program with live events and an ultra customized private program.
And yes, I work online with clients around the world. What are you waiting for? It's time to feel balanced and energized again. You can have fulfillment in yourself and in your relationships. Let's start loving this life you've been creating now. Apply here, let's see how I can support you through this change!
What does working with Lisa look like through the eyes of her clients? Click here to see what her clients are saying.