I Can Have it ALL 
Abundance
Love
Lasting Happiness
While you ARE successful, you are not living the freedom lifestyle you originally envisioned. You got stuck in hustling and forcing things to happen and your personal life has taken the brunt of that.

You keep pushing yourself to exhaustion and you're at or near your breaking point. This is not meant to be a badge of honor, this is your WARNING sign.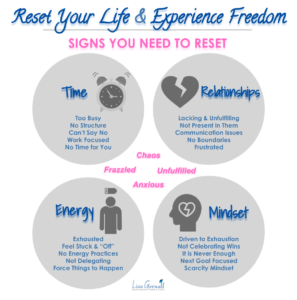 It is time for you to:
– Stop feeling overwhelmed and depleted EVERY day
– Have fulfillment in your relationships
– Cease self-sabotage and victim patterns
– Have more TIME and ENERGY for a life outside of work 
– Be present and in this moment
– Stop being everything for everyone around you
– Make self-care an easy priority
– Learn how to enjoy this amazing life you are creating
– Increase your abundance and energy
– Thrive each day and love ALL areas of your life
That drive for more success has taken over your life and it's leaving you feeling unfulfilled AND at your breaking point.
It's time to RESET and get back to the life you envisioned for yourself.
"In a matter of weeks, I found significant changes to how I was showing up in my work and  in my life. Definitely for the better and now several months in, it's just building on that positivity and the momentum in my life is just building and building." – Jauna
This program is designed for successful women who are ready to actually have it ALL.
---
What you get in the year-long program: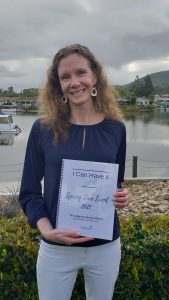 24 Semi-private, Training & Intuitive Energy Work –  Group Coaching Calls with Lisa – 90 minutes – twice a month
3 Night Rejuvenating Retreat in San Diego in the fall

1 day LIVE EVENT in San Diego in the spring
60 minute, Dive Deep Energy Session with Lisa to get you started when you join the program (if not in Private Program)
30 minute, one on one, private session with Lisa once a month (if not in Private Program)
A physical copy of Lisa's trilogy "In Light & Love" series
Access to a private community for mindset and energy support

Secure access to a member vault with every training and live event of program
Want a smaller time commitment? There is also a modified 6 month program available as well. Let's see if this is the perfect program for you, apply for a Connection Call with Lisa.
---
What RESULTS you can expect: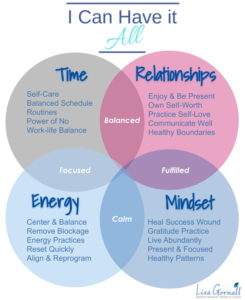 – Stop anxiety and limiting beliefs from running your life
– Learn how to easily prioritize time for you
– Sleep easily and restfully at night
– Find fulfillment and joy in your relationships
– Reclaim your energy and love for life
– Be present and in the moment where your power is
– Wake up ready and excited to start the day
– Reach your goals without hustling
– Create balance in all areas of your life
– Live the freedom lifestyle you originally envisioned
– Have a renewed vigor for your life
---
WHAT happens in each coaching call?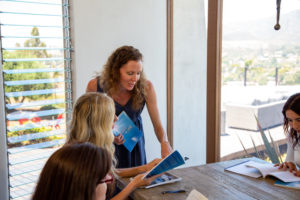 In the 90 minute online call, we:
– Address each participant's concerns 
– Training from "I Can Have it ALL" program
– Learn and practice simple tools to empower you
– Open Q&A
– Experience intuitively customized energy work for the group
---
HOW long does this program last?
The program is 12 or 6 consecutive months which gives you time to learn and integrate the energy work as well as provide ongoing support to heal triggers throughout the program. 
Open enrollment throughout the year.
---
How to know if you're ready…
Are you ready to fix what isn't working anymore for you BEFORE you hit your breaking point?
Here's the thing, as a driven and successful woman myself – I KNOW what is holding you back, how to help you get to that next level and I help you fix what isn't working in your life anymore.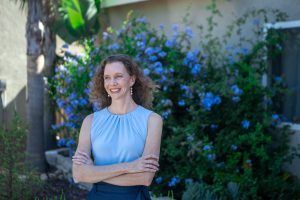 I also know that you do a lot on your OWN. You've had to but there are things you have to hire people to help you do. A key to success is operating in your zone of genius and hiring other experts to help you with everything else. Energy work IS one of those things. And there are many big names using energy consultants to help them be the best.
EVERY person that has wanted to work with me and didn't, I see them on social media still struggling with the EXACT same things they came to me months ago, a year ago or longer for!  
Chances are that if you could fix this on your own, you would have by now. There's a reason why it's been so hard for you to make the changes on your own. Patterns and beliefs run in families and across lifetimes. Do you even know what is energetically guiding you or keeping you stuck right now, how to clear it, reprogram it and refocus? That's what I was born to help you with and so much more!
If you fix what isn't working anymore for you BEFORE you hit your breaking point is so much easier! I have the process and intuitive ability to get you back into the lifestyle you originally envisioned for yourself.
---
WHAT Lisa's clients in  the "I Can Have it ALL" program are saying:
"When I started working with Lisa, I had 20 years of a successful career behind me. I was feeling off  in my balance between family and work. She's helped me identify patterns that even career coaches, therapists and tons of time with friends that I've never gotten rid of. In a matter of weeks, I found significant changes to how I was showing up in my work and  in my life. Definitely for the better and now several months in it's just building on that positivity and the momentum in my life is just building and building."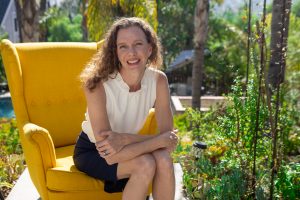 "Lisa's "been able to teach me how to look inside to find my true intuition and guiding me into what makes me happy and having self confidence. I would recommend working with Lisa because she really works with you and your challenges. She personalizes it to you, she really can read into your energy and understand what your blocks are. It helps because then she allows you to kind of work through it and feel it as well. You learn with her what is going on and she feels it too. I've been able to tune into my body like I haven't been able to before and come through some of the blocks that I was not able to before."
"As a career driven woman, it's so easy to get sucked into that hustle more mode, you know, where you're always striving to achieve that next goal. And often times this comes at the expense of your personal health or your relationships. And that's why I love working with Lisa. In Lisa's "I Can Have it ALL" program, she helps you get to the core of what's really driving you. Her program is phenomenal. She offers a ton of support for her clients, group calls, where she's helping you work through your old patterns and set new goals so that you can achieve happiness in a multitude of areas of your life. She also has live events where she facilitates transformative and healing experiences. If you have the chance to work with Lisa, take it she will change your life for the better."