Lisa in the Media
Meet Lisa Gornall with Canvas Rebel
One of my biggest lessons in my career – how to stop overworking. As a high performer that got it all done, for years I was the definiton of overworked in every area of my life.
I really tried to do it all and I even over volunteered because of my Success Wound driving me to do more, more, more. The problem is that overworking only really has one destination – burnout or reaching your breaking point. I also address how to keep your team's morale high.
---
Tips for Building the Best Morning Routine with Simply Jess
In this podcast, Lisa shares her top tips for a strong morning routine that leads to a successful day. We touch upon how to start the day from an energetic standpoint, something not often discussed when talking about morning routines. I love the tips you can do before even getting out of bed. We dive into roadblocks for a healthy routine and provide great tips for moms who need to remember to take time for themselves.
---
The Winner Takes it All with MysticMag
Lisa knows what it's like to be everything to everyone and end up feeling depleted in time and energy.  She dives into her programs and how she helps high performers have it all in and out of work.
---
Community Spotlight:  Meet Lisa Gornall
Learn about Lisa, the struggles of starting her business over two decades ago, who she works with and how she defines success.
---
Stopping Your Self-Sabotage and Victimization to Move Forward Reimagining Diversity and Leadership with Jim Woods
In this episode, teambuilding and high-performance master, Lisa Gornall, describes how raising our performance level is like becoming our ideal self. We can all benefit from her advice on how to increase our success in any area of life by fostering the attitudes and practices that lead to attaining one's goals.
---
Shout Out So Cal – Meet Lisa Gornall
In this interview, Lisa shares the habits that play an important role in her life, what sets her work apart, her favorite things to do in San Diego and who has helped her get where she is today.
---
3 Steps to Actually LET GO and Clear Your Energy LA Yoga Magazine
Letting go is gaining popularity and I LOVE to see it getting air time on reality TV shows lately. However, just because it's on TV, doesn't mean it's being shown how to do correctly. Letting go has to be done in the right way, otherwise it does nothing or causes more harm than good.
---
Understanding Energy, Setting Boundaries & Letting Go Whole Picture Podcast
If you've found letting go or setting boundaries tricky, this one is for you. It's all about energy and Lisa serves up some solid ah-ha moments that I know will resonate with some of you. Be sure to hang out until the end as she walks me (and you) through a quick, yet powerful, white light exercise. It felt like I took a power nap!
---
Relationship Success: 4 Tips for 25 Happy Years LA Yoga Magazine
It is possible for you to have a happy relationship that lasts for 25 years — or more. My husband and I started dated 25 years ago this year. 25 years together is a big number – a lot of couples don't make it that long, at least not happily. If you want to create the life you love with a partner who you love for the long-term, try these relationship success secrets.
---
How to Meditate: Relax your Body and Calm your Mind  LA Yoga Magazine
You know you want to meditate but how do you actually start and keep doing it every day? One of the most popular New Year's resolutions is to learn HOW to meditate and to do it every day. You've heard it's good for you and you want to feel more calm, connected, and balanced. Here's how to relax your body and calm your mind so you can meditate.
---
From Stressed to Blissed with Your Partner LA Yoga Magazine
You've been together more than ever before in your relationship. The access to all your usual activities has been altered which means you've been stuck at home together and you're noticing all the problems. Has the house gotten smaller? Have they always gotten on your nerves and pushed your buttons? What new hobbies can they take up? Or better yet, what can you do to get away? There is a new stress on your relationship that being together all the time has brought to the forefront and it's not working.
---
The Toll that Entrepreneurship Can Have and What to Do About it Podcast Interview
Entrepreneurs are special people. They are very driven and work has a tendency to become the focus. In this episode, Lisa gives practical tips to help you get back to the lifestyle you originally envisioned, the freedom lifestyle.
---
Stop Trying to Do it All: Five Ways to Create the Life You Love  LA YOGA Magazine
During the pandemic you had to take on even more roles at home and at work. The struggle was very real. You didn't know how long you could keep on going at that pace. Something had to give. While most things have some semblance of how they were pre-pandemic, you still have more on your plate now than before the crisis began. Doing even more than you thought you could became your new normal.
---
Tips to Start Your Day with Calm Focus North County Magazine
Imagine starting your day feeling calm, focused and aligned. You are fully present and productive during your morning routine and this carries over into your entire day. When challenges arise, you can stay balanced and keep things in perspective. This doesn't have to be just a fantasy future, starting your day this way can happen right now.
---
Lisa's Interview on Journey Beyond the Veil Podcast
LOVE Your Life – Imagine if you could get to the root of what is driving you…and notice if it even works anymore? Well, today, Lisa is going to talk about the journey of success and how to use energy work to stay balanced throughout the day.
---
Lisa's Interview on FEMnation Podcast – Pursuing Your Passion Against All Odds
In this interesting episode, our fun and wonderful guest Lisa Gornall shares her entrepreneurial journey with us as she transitioned from being a nursing student to a spiritual medium, coach and author. Lisa's journey wasn't easy – she was challenged and had obstacles in her way but she didn't give up and pursued her passion against all odds. Let's listen to her story in today's episode of the FEMnation Podcast.
---
Lisa's Interview with My Weirdest Experience Podcast
Do you ever feel like something DARK is guiding you or attached to you? That's the topic on this podcast interview – how to clear the dark energies you have given permission to "help" you with something. The problem is they don't really help you and once you realize they are there, you are ready to make them disappear as fast as possible.
Knowing how to recognize when a negative energy has attached to you and how to clear it is so important and that is what this episode is all about – Transmuting Dark Energy with White Light with Lisa Gornall.
---
Lisa Live with What the Woo Podcast
On this livestream interview with What the Woo, we discussed Lisa's journey as a Spiritual Medium, how to balance your energy easily, communicating with spirits and clearing out negative energy.
---
The Extraordinary Being Movement Podcast presents, Overcoming Your Breaking Point with Lisa Gornall!
In this episode we discuss…
* Lisa's unique abilities to connect with people
* Getting cleared of negative emotional energy
* How to listen to your intuition
* The power of unplugging and being present
* and so much more!
---
The Path Less Followed with Lisa Gornall – Podcast Episode
Think about what your bigger vision is. Imagine yourself two years, three years in the future doing everything that makes you happy in your work, in your family life, and in every area of your life. Listen to this podcast episode and learn about how to allow your energy to come to you and into everything around you.
---
The Money Mindset You Need to Attract Abundance in Business and Life. 
Live podcast interview with a seasoned Mindset & Energy Coach, and a Spiritual Medium & Healer, Lisa Gornall. Lisa shared practical tips to enhance your energy, mindset and abundance live with Dr. Ai Addyson-Zhang.
---
Just Bodly Go Podcast Interview with Lisa Gornall
In this podcast episode we cover:
How to kick the "hustle mentality"
Setting boundaries for yourself and loved ones
The importance of a morning routine
---
On Done Being Single Podcast with Treva & Robby Scharf "HOW TO SLAY PANDEMIC ANXIETY"
When you slay anxiety, you slay life. Mastering uncertainty in a pandemic isn't easy, but you're stronger than you think! Get the skills to beat back the anxiety monster here.
---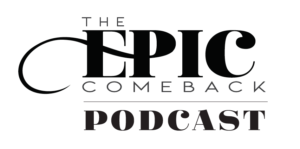 Spiritual medium, healer, and intuitive energy coach Lisa Gornall shares that the best way to get to the other side of a life-shattering experience is to acknowledge that there is always another side, there is another way, and there is another choice. All you have to do is say yes to the vision of what you want to create. She learned this lesson while stepping into the truth of her intuitive abilities despite the resistance of others. Listen to episode 94 here.
---
Always Use Your Intuition – The Power Within with Courageous Women
Lisa joins the Power Within for a full episode with Melissa Alves. Your intuition is always there guiding you. We often don't notice it and stop and listen. I have some great tips for you in this podcast interview.
---
I joined Justin Atherton and Paul Forchione on the Actions and Limits podcast for a relevant discussion on Energy Work During the Crisis. Practical and easy to do energy work during the Stay at Home orders during Covid19. 
---
How do you stop those negative thoughts? The ones that are running rampant in your head right now? Lisa joins the Power Within for this  7 minute teaser for you. Start implementing it today!
---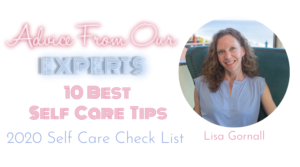 10 Best Self Care Tips – A 2020 Self Care Check List by Lisa Gornall
Self-care is necessary. It's like oxygen to your body. The busier you are, the more important this becomes.
It doesn't have to be time consuming or expensive. It's just something that you do to help improve your overall sense of wellness. It can be anything that helps you grow, feel secure, rest, relax or reward yourself.
---
How To Overcome Your Success Wound & Move Past Fear & Doubt with Lisa Gornall
IN THIS EPISODE… As a Spiritual Medium, Healer and Mindset Coach, Lisa was born with abilities to become ONE with your energy. She gets to the root of those fears, family patterns, beliefs, energies and other life experiences that are misguiding you so you can move forward onto your best path. She intuitively empowers high level entrepreneurs to step out of overwhelm and exhaustion and reclaim their time, relationships, inner game and energy so they can live a fulfilling and balanced life.
---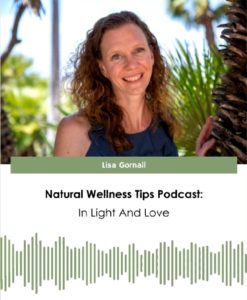 In Light and Love with Lisa Gornall
This week I get the honor of speaking with a dear friend Lisa Gornall!  She is a Spiritual Medium, Healer and Coach, and was born with abilities to become ONE with your energy. She intuitively empowers successful female entrepreneurs so you can reclaim your time, relationships, abundance and energy and live a fulfilling and balanced life.
---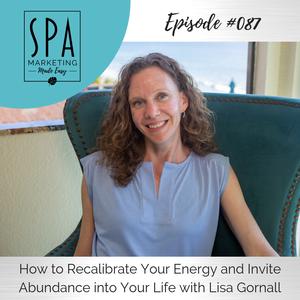 How to Recalibrate Your Energy and Invite Abundance into Your Life with Lisa Gornall
As aestheticians, we share touch and personal connection with our clients, which means that energy exchange plays a huge role in our client experience. If we come to our work with our energy unbalanced, or we find our energy affected by that of a client, it's critical that we be able to recalibrate and realign with a lighter, brighter energy. And that's what Lisa Gornall is here to share with us in this episode.
---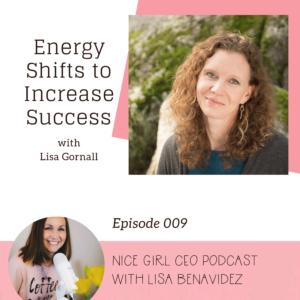 Energy Shifts to Increase Success with Lisa Gornall
A little woo and a little strategy mixed together to create energy shifts that help you create a more successful life and business. This is exactly what Lisa Gornall and I chat about in this episode. Plus, Lisa walks us through a simple practice you can implement right away to start shifting your energy today!
---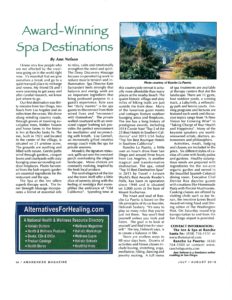 Lisa Gornall acknowledged in Awareness Magazine